– Iron and Sulfur Removal Systems – Hydrogen peroxide: Hydrogen peroxide system completely removes manganese, iron, and sulfur in well water, making it one of the most effective sulfur eradication systems. Hydrogen peroxide is made up of hydrogen and oxygen, and cannot be considered as a hazardous chemical.
What kind of filter removes sulfur?
Activated carbon filters at the tap or for the entire house can remove small amounts of hydrogen sulfide, so these are best for water in which the sulfur smell isn't too strong.
What system removes iron from well water?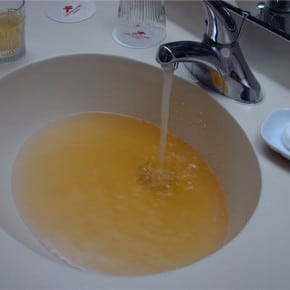 Filtration is the best way to remove this while also removing: sand, mica, dirt, or sediment if present in your well water. A cartridge filter can work in removing ferric iron. If levels are high a chemical-free backwashing filter is a better filtration option.
How do you remove sulfur?
Chlorine bleach can effectively remove medium to high levels (over 6 mg/l) of hydrogen sulfide. The chlorine in the bleach chemically reacts with (oxi- dizes) the hydrogen sulfide eliminating the "rotten egg" odor. Chlorine bleach also reacts with iron or manganese, and disinfects water supplies.
Ways of iron removal from water
Shock Chlorination.
Chemical Oxidization.
Catalytic Filtration.
Phosphate Treatment.
Oxidizing filters.
Water Softeners.
Iron Removal Filter.
Schedule a free in-home water test today!
Does a water softener remove iron?
Water softeners can and do remove small amounts of iron. Yet, a standard softener is not specifically designed to treat high levels of iron in your water. For example, the water softener systems Water-Right manufacturers remove iron in concentrations up to 1 ppm, or 1 mg/L.
Sulfur Water Control (Rotten Egg Odor in Home Water Supplies)
Iron and Sulfur Removal Systems
Foul-smelling or unusual odors from your water should make you question its quality and safety. Some odors indicate the presence of contaminants which may pose a health risk. Other odors, such as those caused by hydrogen sul- fide, are more of a nuisance, only affecting the taste of the water.
Effects of Sulfur Water
Sulfur in your water supply is easily recognized by its offensive odor. Hydrogen sulfide gas causes the "rotten-egg" or sulfur water smell. Hydrogen sulfide in water causes no known health effects. However, high concentrations do change the taste of the water.
Hydrogen sulfide dissolved in water corrodes metals such as iron, steel, copper and brass. The corrosion of iron and steel from sulfur forms ferrous sulfide or "black water." Hydrogen sulfide in water can blacken silverware and discolor copper and brass utensils.
Sulfur water makes cleaning clothes very difficult. Using chlorine bleach in sulfur water reduces the cleaning power of detergent. Hydrogen sulfide in water also corrodes exposed metal parts in washing machines.
Iron and manganese, often present with hydrogen sulfide, turn the water black and greasy-feeling. If untreated, the water stains laundry, washing machines, sinks and kitchenware. When used in the laundry, chlorine bleach reacts with iron and manganese forming dark rusty or brownish stains on clothes.
Occurrence & Characteristics
Generally, hydrogen sulfide occurs in concentrations of less than 10 mg/l (milligrams per liter), but occasionally amounts of 50 to 75 mg/l are found. Hydrogen sulfide is more commonly found in ground water supplies than in sur- face water. Hydrogen sulfide gas quickly escapes from surface water.
Wells drilled in shale or sandstone, or near coal or oil fields often have hydrogen sulfide present. Much of the ground water in upstate New York has noticeable hydrogen sulfide levels. High levels of hydrogen sulfide also occur in many locations in the state.